The Divine Feminine
There are two ways of spreading light...
To be the candle, or the mirror that reflects it.
– Edith Wharton
Last week I attended the Women's Vision to Action workshop in Grass Valley put on by fellow KVMR broadcaster Elisa Parker and Jesse Locks. I was the only male there with 250 women! I went to listen, to learn and to support the work they are doing, because I agree with the Dali Lama who said, the world will be saved by the western women. While it was a little awkward to be the only male there, the content was inspiring, informative and crucial for me to hear at this time. It also supports my commitment to healing the wounds between men and women as an access to peace in the world. I hope that more of my brothers will join me next year... May we become a mirror for our sisters that reflects the light that they are shining on the world at this time!
Why do I think it is important to support our women or more importantly the return of the Divine feminine in us all? Look around and see the mess we are in; environmental devastation, social injustice, wars, collapsing economy, plummeting educational opportunities, massive inequality, growing food shortages and lack of consensus and cooperation on what to do about it all. The nature of the feminine is caring, compassion, cooperation, and kindness... While I think most of us have a profound desire to make the world a better place, it is the feminine aspects of us all that will bring the com-passion, power and understanding we need to catalyze a real transformation from a world gone mad to an earth centered caring global society.
Read the entire letter from Michael here.



---
Moving Meditation News
Presence with Bella and Michael


To enroll online, or for more information, click here.

Friday Nights:
HIGH INTENSITY COSMIC FRIDAY NIGHT FIVE RHYTHMS BLOW OUT DANCE
OK! For those of you who wanted to go back to a Friday Evening High Intensity Waves we are going to try it. If this is really what you want I will know by your attendance. I am willing to shift the class to Wednesdays, but first I need to know that this is really what you want and need. Join us for this High Intensity Cosmic Blow Out Dance (otherwise know as HICBOD) Starting May 12th At South Yuba Club.

Release in the Rhythms July 10-12 Harbin Hot Springs
A 5Rhythms & Gentle Yin Yoga Experience with Bella and Sukbhir For more information go to www.bodyjoy.net

Part two of Presence:
July 9th Sacramento with Michael and Bella
This module will focus on discovering your own unique vibrant heartbeat & and connecting deeply with others. You do not have to have done session one to attend this day-long intensive. Each module works with a different aspect of deepening presence. To find out more or to register go to www.bodyjoy.net


photo by David Lovere
---
Upcoming Events
Gender Reconciliation Party with Michael and Lisa Schrader

Mark your calendars for this pot luck event after Sweat Your Prayers at 3pm, July 26th We will delve into the mysteries that keep us separate and celebrate our connections with each other. Email michael@WellofLight.com if you would like to attend. No charge. Just your authentic self and something for the table...
Stay tuned for more on this!



---
New Podcasts
Click here to view the Podcasts page, and to listen to the following podcasts:

Mary Jorgensen: The Freedom Riders
click to listen

It has been 50 years since the Freedom Riders boarded buses, trains and planes bound for the Deep South to challenge that region's outdated Jim Crow laws. The Freedom Rides were intended to highlight the South's non-compliance with a U.S. Supreme Court decision that prohibited segregation in all interstate public transportation facilities. This week, many of the estimated 350 Freedom Riders who put their lives on the line are making their way to a reunion in Chicago — and to join in the taping of a show about the Freedom Rides on the Oprah Winfrey Show, set to air May 4. Nevada City resident and longtime peace activist Mary Jorgensen, 94, plans to be on hand. Check out this aricle in the The Union newspaper for more info: Freedom Riders article
Joanna Macy: On War and Peace
click to listen

Buddhist Scholar, Systems Theorist, Ecologist, Teacher, and Activist. Joanna addresses the reasons for the grief, fear, sadness, uncertainty, and numbness that prevail in modern life and keeps bringing attention back to what is sacred and true: the wondrously interconnected and intelligent web of life. Joanna is just returning from a 3-month meditation. For more go to www.joannamacy.net
Alternative Economies for Changing Times with: Charles Eisenstein, Zoe Alowan & Bill Kauth
click to listen

Charles Eisenstein: The Ascent of Humanity
Professor, lecturer and workshop leader Charles Eisenstein is the Author of The Ascent of Humanity and the upcoming Sacred Economics, and two influential essays on money: Money and the Crisis of Civilization and Money and The Turning of Age A faculty member of Goddard College, he speaks and writes about civilization, economics, and the evolution of human consciousness. www.ascentofhumanity.com
Zoe Alowan has been actively engaged in sacred art for many decades. As a painter, sculptor, dancer and storyteller, her work explores transformation and healing. Her life is about reclaiming essence wisdom. She utilizes the inspiration of the divine feminine, humor, song and ritual movement as ways of celebrating wholeness. She has taught at Esalen and Naropa Institute, facilitates women's groups, singing circles as well as intuitive process painting retreats.
Bill Kauth was working as a psychotherapist and business consultant in 1984 when he conceived and co-founded the New Warrior Training Adventure, not presented by the ManKind Project to nearly 50,000 men in 40 centers in 8 countries around the world. He is the author of A Circle of Men: The Original Manual for Men's Support Groups. As a social inventor over the last two decades, Bill also co-founded the Spiritual Warrior, Inner King Trainings and the Warrior-Monk training retreats.
www.sacredlifeboats.com/about-us.html
Noah Levine: Practices for Spiritual Revolutionaries
click to listen
Noah Levine, the author of Dharma Punx, is a Buddhist teacher, counselor, and writer who moved from a life of addiction and crime to one of service. He has been practicing Buddhist meditation since 1988, was trained to teach by Jack Kornfield, and leads meditation groups and workshops nationally as well as in Juvenile halls and prisons. Levin has helped thousands of young people find freedom from suffering and self-destruction. www.dharmapunx.com
Lily Yeh: Inspiration and Community Building
click to listen

Lily Yeh is an internationally celebrated artist and award-winning founder and former executive and artistic director of the Village of Arts and Humanities. Since 1986, with the help of neighborhood children and adults, Yeh has built the Village from an abandoned lot into an organization and a community. She has infused the Village with her own artistic sensitivity and vision, collaborating with other artists and community residents to create a place that brings art into both the physical space and daily rhythms of life. Expanding beyond North Philadelphia, Yeh's work has taken her to communities around the world. www.barefootartists.org
Special Show on Gender Equality and Reconciliation
click to listen
With Warren Farrell, Marilyn Rosenbrock Nyborg, Elisa Parker and Michael Stone

The future of humanity will be decided not by relations between nations, but by relations between women and men. D.H. Lawrence
Warren Farrell: Dr. Warren Farrell's books on male-female issues have made contributions in twelve fields. They include two award-winning international best-sellers, Why Men Are The Way They Are plus The Myth of Male Power. His most recent books are Father and Child Reunion, and Women Can't Hear What Men Don't Say. His research on Father and Child Reunion, finding what is optimal for children of divorce, has led to his doing expert witness work in child custody cases. Dr. Farrell is the only man in the US elected three times to the Board of Directors of the National Organization for Women in New York City. www.warrenfarrell.org
Elisa Parker is the co-founder, producer and host of the award winning program, See Jane Do. As a social change organization, See Jane Do redefines media for women and the power of story to create positive change. Serving as an activist for women, social justice, and the environment, Elisa's work takes her around the world to discover and share the extraordinary stories and solutions in each of us. Elisa reports for KVMR and has produced and hosted various radio and television programs that inform, engage and entertain the listener. Elisa also holds years of experience in working with cutting edge organizations in order to reach their highest potential and unleash the talents of their team leaders and staff. She holds a BA in Communications and a MA in Organization Development. Elisa lives in the Sierra Foothills with her husband and two daughters. www.seejanedo.com

Marilyn Rosenbrock Nyborg has been a spiritually based activist since the '60's beginning with the civil rights movement. In the '70's she turned her focus inward and began the journey to wholeness, integrating the masculine and feminine within and examining the unconscious attitudes and conditioning in her personality. Recognizing the need for women to find their voices and claim their power, she began in the early '80's to work through women's circles and activities to bring feminine wisdom to bear on the world. In 2002 she became a co-founder of Gather the Women (Gatherthewomen.org) In 2009 she initiated a conversation about the major loss throughout civilization at the repression and degradation of women's wisdom and contributions, which led to the birth to Women Waking the World.
Michael Stone is the host and producer of KVMR's award winning Conversations, which brings you leading edge thinkers, authors and activists in the areas of Environmental Restoration, Social Justice, Evolutionary Cosmology and Spiritual fulfillment. Prior to starting Conversations he was the founder and director of Mastery of Management International (MMI) an international Organizational Development Consulting firm whose purpose was to "bring heart and meaning into the world of work". Michael also leads moving mediation classes and workshops based on the work of Gabrielle Roth. Michael is an active member of Bioneers and the Pachamama Alliance and many other environmental and social justice organizations.
John Jeavons: Grow More Vegetables with Biointensive Gardening
click to listen

John Jeavons is the Executive Director of Ecology Action of the Mid-Peninsula. He is known internationally as the leading researcher and method developer, teacher, and consultant for the small-scale, sustainable agricultural method known as GROW BIOINTENSIVE mini-farming. He is the author of the best-selling book How to Grow More Vegetables, Fruits, Nuts, Berries, Grains, and Other Crops Than You Ever Thought Possible On Less Land Than You Can Imagine. He has authored, co-authored or edited over 30 publications on this high-yielding, resource-conserving Biointensive approach, including a five-part, peer reviewed article that appeared in The Journal of Sustainable Agriculture. Jeavon's food-raising methods are being used in 141 countries and by such organizations as UNICEF, Save the Children, and the Peace Corps. www.johnjeavons.info
NOTE: expanded interview with John Jeavon coming soon.
Anne Hillman: Awakening the Energies of Love: Discovering Fire for the Second Time
click to listen

Anne Hillmanhas spent the last 30 years exploring the internal aspects of social change—an inquiry into the necessary interior and group development required to sustain fundamental cultural transformation. She is the author of Awakening the Energies of Love: Discovering Fire for the Second Time, an experiential pathway into that necessary transformation. The book was inspired by Teilhard de Chardin, whose biographer, Ursula King, cites Anne as one of four people who have given us new metaphors and ideas about love for our time. She is also author of The Dancing Animal Woman—A Celebration of Life. Both books were influenced by Thomas Berry, Brian Swimme, and Richard Moss, MD. See Endorsements. A former consultant to organizations, she helped tap new levels of group functioning and creativity in times of rapid change. Anne now leads gatherings here and abroad in which participants with different perspectives explore the kind of love that unites us all—not a feeling, but a great Power. Her articles have appeared in national journals and her poetry in several anthologies. www.annehillman.net
---
Book of the Month
Divine Duality: The Power of Reconciliation Between Women and Men
By William Keepin, Ph.D. with Cynthia Brix M.Div., and Molly Dwyer, Ph.D.
There is probably no more needed work to save us from total destruction of our planet and future life than to create a global healing between men and women. This powerful, passionate and pioneering book gives us the tools, insights and methodology to participate in the healing of the gender wounds that have grown to epidemic proportions. Please read the review here, buy the book and read it cover to cover and listen to William and Cynthia on KVMR's Conversations on July 12th...
---
Articles
Vandana Shiva: Understanding the Corporate Takeover
CommonDreams.org
"The American people should see that corporations have abandoned them long ago," says scientist, environmentalist, and food justice activist Dr. Vandana Shiva, named one of the seven most influential women in the world by Forbes magazine. "The people will have to rebuild democracy as a living democracy."
Dr. Shiva has been fighting corporate takeover in every area in her native India, combating a nuclear plant one week and patented, genetically modified seeds another. She joins Laura in studio to advise American activists how they can fight the merging of corporations and government here at home and around the world.
To watch the video, click here.


Anthropocene: Age of Man
Elizabeth Kolbert
National Geographic Magazine
The path leads up a hill, across a fast-moving stream, back across the stream, and then past the carcass of a sheep. In my view it's raining, but here in the Southern Uplands of Scotland, I'm told, this counts as only a light drizzle, or smirr. Just beyond the final switchback, there's a waterfall, half shrouded in mist, and an outcropping of jagged rock. The rock has bands that run vertically, like a layer cake that's been tipped on its side. My guide, Jan Zalasiewicz, a British stratigrapher, points to a wide stripe of gray. "Bad things happened in here," he says.
The stripe was laid down some 445 million years ago, as sediments slowly piled up on the bottom of an ancient ocean. In those days life was still confined mostly to the water, and it was undergoing a crisis. Between one edge of the three-foot-thick gray band and the other, some 80 percent of marine species died out, many of them the sorts of creatures, like graptolites, that no longer exist. The extinction event, known as the end-Ordovician, was one of the five biggest of the past half billion years. It coincided with extreme changes in climate, in global sea levels, and in ocean chemistry—all caused, perhaps, by a supercontinent drifting over the South Pole.
To read the full article, click here.
Food Prices Driven Up by Global Warming, Study Shows
Damian Carrington
CommonDreams.org
Global warming has already harmed the world's food production and has driven up food prices by as much as 20% over recent decades, new research has revealed. The drop in the productivity of crop plants around the world was not caused by changes in rainfall but was because higher temperatures can cause dehydration, prevent pollination and lead to slowed photosynthesis.
To read the full article, click here.

50 Million Environmental Refugees By 2020, Experts Predict
Joanna Zelman
Huffington Post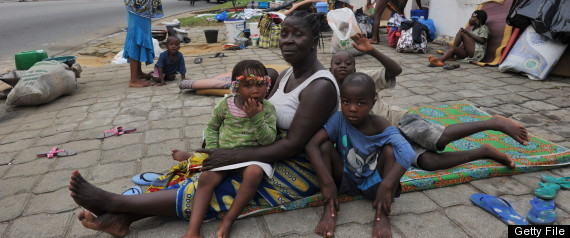 This past week, at the annual meeting of the American Association for the Advancement of Science (AAAS), experts warned that, "In 2020, the UN has projected that we will have 50 million environmental refugees," the AFP reports.
A refugee is currently considered by the UN High Commissioner on Refugees to be a person who is fleeing persecution due to their race, religion, nationality, etc. There is no mention of the environment as a reason to flee. And yet, if you have no water from a drought, have no food due to flooding, or if your home is quite simply underwater, what other option do you have but to flee?
To read the full article, click here.

Plan B Updates: Why World Food Prices May Keep Climbing
Lester R. Brown
Earth Policy Institute
In February, world food prices reached the highest level on record. Soaring food prices are already a source of spreading hunger and political unrest, and it appears likely that they will climb further in the months ahead.
As a result of an extraordinarily tight grain situation, this year's harvest will be one of the most closely watched in years. Last year, the world produced 2,180 million tons of grain. It consumed 2,240 million tons, a consumption excess that was made possible by drawing down stocks by 60 million tons. (See data.) To avoid repeating last year's shortfall and to cover this year's estimated 40-million-ton growth in demand, this year's world grain harvest needs to increase by at least 100 million tons. Yet that would only maintain the current precarious balance between supply and demand.
To read the full article, click here.


---
Back to top | Conversations Home


Visit our Website!
Listen to Conversations 24/7
on Internet Radio here!
Download Conversations Shows
Conversations shows are now available to down load from iTunes. It's easy! Just go to itunes store, and search for Conversations with Michael Stone. You can download shows for free. Enjoy...
Listen live at www.kvmr.org
Tuesdays at 1pm PST
CONVERSATIONS, hosted by Michael Stone, brings you leading edge thinkers in the areas of Environmental Restoration, Evolutionary Cosmology, Social Justice and Spiritual fulfillment. We look for positive solutions to local and global issues that leave you touched, moved, and inspired to action. Our weekly guests include local and global experts and concerned citizens working together to heal the wounds that separate, alienate, and marginalize people...

---
On Giving-Thanks
For it is in giving that we receive.
St. Francis of Assisi
We need your support to continue to provide Conversations, The Well of Light and other up to date information on what is happening in the environmental, spiritual, and social justice arenas. If you get value from these offerings I invite you to support their continuation by funding them. Your contribution makes a difference and so do you. Thank you for being a supporter of Conversations...
Free Personalized 5R type music wave or book — For $25 a month contribution to KVMR's Conversations you will receive a new dance cd or book each month you contribute… Or book and cd for $40 for both. Keep Conversations going and support the Well of Light. Thank you for your ongoing support. We need it now more than ever... May it come back to you a hundred fold.

Blessings,
michael
You are like a candle. Imagine you are sending light out all around you. All your words, thoughts and actions are going in many directions. If you say something kind, your kind words go in many directions, and you yourself go with them. We are ...transforming and continuing in a different form at every moment.
– Thich Nhat Hanh
---
Upcoming Shows on Conversations
May 17th
Special Pledge Drive show noon – 2pm
Noon-1pm – John Perkins: Creating a Sustainable, Just, and Peaceful World
John Perkins is best known for his book Confessions of an Economic Hit Man, a startling expose of international corruption. He advised the World Bank, United Nations, IMF, U.S. Treasury Department, Fortune 500 corporations, and countries in Africa, Asia, Latin America, and the Middle East. His The Secret History of the American Empire details the clandestine operations that created the world's first truly global empire. Hoodwinked is a blueprint for a new form of global economics. John is a founder and board member of Dream Change and The Pachamama Alliance. Perkins books on indigenous cultures and transformation, include Shapeshifting, The World Is As You Dream It, Psychonavigation, Spirit of the Shuar, and The Stress-Free Habit. www.johnperkins.org
1-2pm – Rabbi Michael Lerner: Healing America's Political and Spiritual Crisis
Rabbi Michael Lerner is an internationally renowned social theorist, theologian, psychotherapist, and the editor of Tikkun magazine. He earned a PhD in philosophy from UC Berkeley, and in clinical psychology from the Wright Institute. Lerner is rabbi of Beyt Tikkun synagogue, San Francisco and Berkeley. Rabbi Lerner's most recent book The Left Hand of God: Healing America's Political and Spiritual Crisis addresses the central mystery of contemporary politics. www.tikkun.org
May 24th
Nipun Mehta: Gift economies of the future
Nipun Mehta is the co-founder of CharityFocus.org — a fully volunteer-run organization that leverages technology to inspire greater volunteerism and shift our cultural ethos towards generosity. CharityFocus has grown into an incubator of "gift-economy" projects ranging from web services to a film production company to a print magazine to a restaurant; with a growing membership base of 200K, they serve millions of global viewers to their websites and send more than 50 million solicited newsletters every year. In 2005, Nipun and his wife embarked on an unscripted walking pilgrimage in India that dramatically deepened their understanding of gift-economy values. Nipun's mission statement of his life simply reads: "Bring smiles in the world and stillness in my heart." www.charityfocus.org
May 31st
Carolyn Baker: Navigating the Coming Chaos
Carolyn Baker, Ph.D., was an adjunct professor of history and psychology for 11 years and a psychotherapist in private practice for 17 years. Much of her writing offers emotional and spiritual tools for preparing for living in a post-industrial world. Carolyn's latest book is Navigating The Coming Chaos: A Handbook For Inner Transition. Her other books include Sacred Demise: Walking The Spiritual Path of Industrial Civilization's Collapse, Coming Out From Christian Fundamentalism: Affirming Sensuality, Social Justice, and The Sacred, U.S. History Uncensored: What Your High School Textbook Didn't Tell You and The Journey of Forgiveness. carolynbaker.net
June 7th
Derrick Jensen: Listening to the Voices of the Natural World
Derrick Jensen is an American author and environmental activist. Jensen is a leading voice of cultural dissent. He explores the nature of injustice, how civilizations devastate the natural world, and how human beings retreat into denial at the destruction of the planet. His work examines the central question, "If the destruction of the natural world isn't making us happy, then why are we doing it?" Jensen and Keith are the authors of Deep Green Resistance. His new book Dreams, is about to be released and the subject of this show. www.derrickjensen.org
June 14th
Sark: Transforming Loss & Change into Gift & Opportunity
Sark (Susan Ariel Rainbow Kennedy) is a best selling author and artist who has empowered millions to live their creative dreams, manage their businesses, and savor personal connections. Her books have sold over two million copies. She is the founder and creative fountain of Planet SARK, A thriving business that creates fabulous products and services to support empowered living. www.planetsark.com
June 21st
Mat Stein: Emergency Preparation and Crisis Survival
Matthew Stein is an author, engineer, inventor and specializing in hurricane resistant, energy efficient and environmentally friendly homes. He is the author of When Technology Fails: A Manual for Self-Reliance, Sustainability, and Surviving the Long Emergency. www.whentechfails.com
June 28th
Lisa Schrader: Awakening Shakti
Lisa Schrader, the Founder of Awakening Shakti, has impacted the lives of thousands of women over the past 10 years as a workshop leader, author, speaker and coach. Her work has been featured on Oprah, Oxygen and VH1. She is the author of "Kama Sutra 52: A Year's Worth of the Best Positions for Passion and Pleasure" from Quiver Books. She has a private coaching practice supporting clients worldwide and is certified through the International Coach Federation. www.awakeningshakti.com

Conversations airs every Tuesday at 1pm PST on KVMR.
For current shows or more information go to www.AreWeListening.net

---
Videos
Kathy LeMay at the 2011 Passion Into Action Conference
John Hunter on the World Peace Game

The Sacred Feminine - Andrew Harvey - Sacred Activism
---
Hot Site of the Month
Amazon Watch
In the Amazon region of Brazil, Colombia, Ecuador, and Peru, Amazon Watch is working directly with indigenous communities to build local capacity and advance the long-term protection of their lands. For 18 years they have been fighting Chevron / Texaco to get compensated for the unprecedented damage they did to the rain forest and the homeland of the indigenous people's there. Chevron has recently been found guilty of massive contamination of the Amazon and fined $18 billion. The company has vowed to fight the verdict "until Hell freezes over." This is both immoral and unwise. Please watch this video and get involved. It is not only the people of the rain forest people, but all us us who are impacted by this murder of the lungs of our planet... For more information go to: www.amazonwatch.org
---
A Call to Action!
If you think your local radio station would be interested in Conversations programming please contact them and let them know.
Support Conversations with your tax-deductible donation.


---
Newsletters
If you would like to receive more frequent news and information from the Well of Light, you may subscribe to our blog newsletter.
You may choose what you want to hear about and nothing more or less. All you have to do is choose your specific area of interest from the drop-down menu in the subscription form. Your choices are:
• Moving Meditation
• Conversations on KVMR
• Awaken the Dreamer Symposium
• Quote of the Day
• All

Note: If you sign up for "all categories" or the "quote of the day," you will receive more frequent emails with a beautiful photo and an inspiring quote when Michael is in town.
Click here to subscribe.
---
Well of Light Seva Team
The best way to find yourself is to lose yourself in the service of others.
— Mohandas K. Gandhi
Seva is selfless service to a cause you believe will benefit others. It is the willingness to perform any task for a greater cause without prospect of recognition or reward.

Well of Light has many opportunities to serve our community. If you would like to participate on the Well of Light Seva Team please call Michael Stone @ 530.477.7757 or email michael@welloflight.com

"I don't know what your destiny will be, but one thing I do know: the only ones among you who will be really happy are those who have sought and found how to serve."
- Albert Schweitzer
---
Poetry Corner
My Secret is Silence
The waves of the mind
demand so much of Silence.
But she does not talk back
does not give answers nor arguments.
She is the hidden author of every thought
every feeling
every moment.
Silence.
She speaks only one word.
And that word is this very existence.
No name you give Her
touches Her
captures Her.
No understanding
can embrace Her.
Mind throws itself at Silence
demanding to be let in.
But no mind can enter into
Her radiant darkness
Her pure and smiling
nothingness.
The mind hurls itself
into sacred questions.
But Silence remains
unmoved by tantrums.
She asks only for nothing.
Nothing.
But you won' t give it to Her
because it is the last coin
in your pocket.
And you would rather
give her your demands than
your sacred and empty hands.
- Adyashanti
MORNING HUMMINGBIRD
Beloved Mother
I am your morning hummingbird
hovering in dreamlike winds
around the fragrant rose
of your radiant heart light
Sipping the sweet white nectar of your divine love
I am nourished and sustained
I am ablaze with whirling galaxies
of undivided joy
I am drunk and swooning
as I press my long slender beak
deep into the luminous petals
of your Great Heart
to sip the rapturous flowing currents
of your shining being
– Ethan Walker III

---
Donate to Conversations
Dear Friends,
For the past six years I have been funding Conversations, The Well of Light and other associated projects out of my own pocket and fund raising events. In order to keep this newsletter coming and keep moving towards syndicating Conversations we need your help. Please consider making a tax-deductible contribution if you enjoy receiving our monthly newsletter or listening to Conversations.
It's easy, just click here to visit the Conversations Investors page, or click the button below:
Free Personalized 5R type music wave or book — For $25 a month contribution to KVMR's Conversations you will receive a new dance cd or book each month you contribute… Or book and cd for $40 for both. Keep Conversations going and support the Well of Light. Thank you for your ongoing support. We need it now more than ever... May it come back to you a hundred fold.
Thank you so much. Your support is greatly appreciated.
Blessings,
michael